*This post has been compensated by Collective Bias, Inc. and AcneFree. All opinions are mine alone. #AcneFreeSummer #AcneFreeLife #CollectiveBias*
As a young, millennial mom, breakouts have become a regular battle. The season for off the shoulder and backless trends is in full swing and no one wants to slip into a new dress only to discover a breakout underway along their back or shoulders. Thankfully, I've started a new skincare routine with AcneFree that's keeping my shoulders sleek and ready for any strapless number. Click the photo below to see more and shop: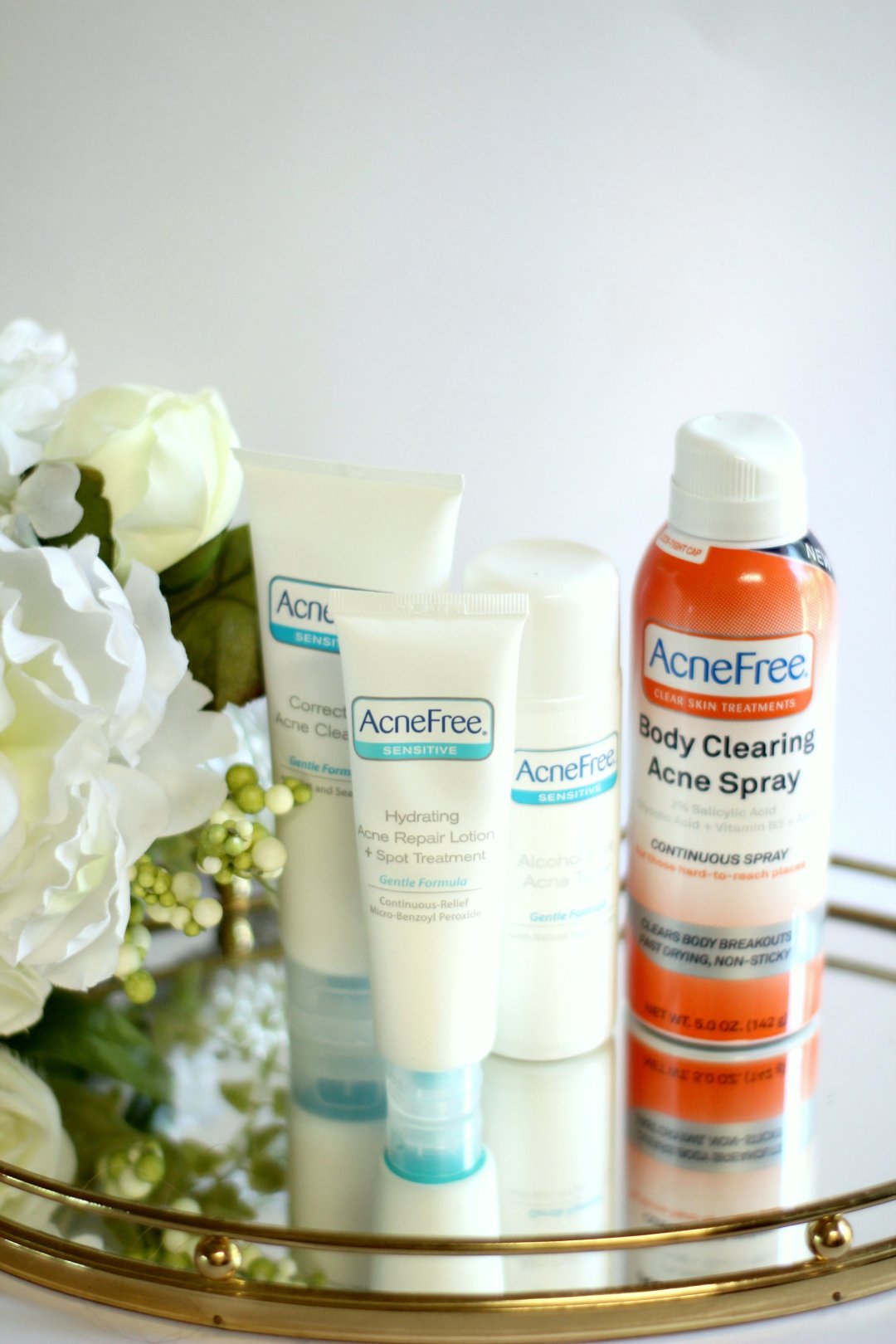 There is so much to choose from nowadays in the skincare market. Searching for new products can be overwhelming, so I love that AcneFree provides a daily treatment kit. There's no guesswork and no questions--just three simple steps to better skin! I just browsed through a few products on Amazon and found exactly what I needed--plus my Prime membership meant free 2-day shipping! I grabbed the AcneFree Sensitive Skin 24 Hour Acne Clearing System since my skin can be prone to irritation and haven't had any issues! This system seems to work better than other acne clearing systems I've tried because of the micro-sized benzoyl peroxide. This smaller size allows it to penetrate deeper into pore more quickly without being harsh to delicate facial skin.
The 24 Hour kit includes 3 products: Corrective Acne Cleanser, Alcohol-Free Toner, and Hydrating Acne Repair Lotion + Spot Treatment. I love that I can use all of these on my chest and back as well, because I always dread those sudden shoulder breakouts that happen during the summer. I'm loving all the backless and strapless trends right now, so having a product that works doubletime really pays off for me. The repair lotion also doubles as a spot treatment which is perfect for keeping those pesky hormonal breakouts under control.
I also picked up this AcneFree Body Clearing Spray for those hard to reach spots along my back. It allows you to spray at any angle so you can fight those lower back acne battles easily. I think this would be a great product to keep in your gym bag or locker this coming school year to keep any sweat-induced breakouts at bay!
It's important to me to keep my skin looking its best, especially during a season when breakouts are rampant and styles are more revealing. With school starting up again soon, I know some of you may be thinking of picture day and upcoming dances, so what better way to prepare than with $1,000 AND your own AcneFree products for a year?! See below for sweepstakes details on how to WIN:


Participate in the #AcneFreeLife Sweepstakes – See Visible Results in As Few As 3 Days!
AcneFree is launching a 4-week sweepstakes on August 14

th

, 2017. 3 Grand Prize Winners will win $1,000 spending money and AcneFree Supplies for a year. Additionally, AcneFree will give away 10 AcneFree® 24 Hour Acne Clearing Systems every week for 4 weeks.

No Purchase Necessary. To enter, simply enter your name and email address at http://cbi.as/9rasp

Use the form to follow on Instagram and Facebook to earn extra entries.

For more information full rules, log on to http://cbi.as/9rasp
Do you have a special routine during the summer to keep your skin clear? Check out the
#AcneFreeSummer Social Hub
to see more summer skincare inspiration and share your favorite skincare secrets below!